100 Years of Indian Science Congress 2013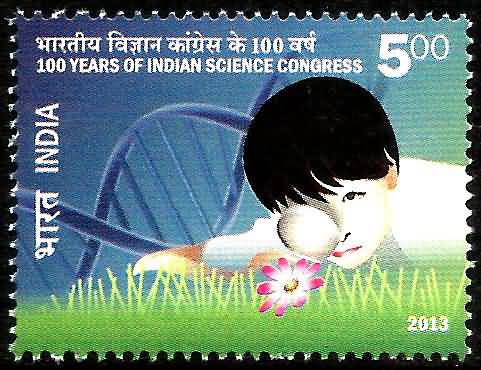 Issued for : The Department of Posts is happy to release a Postage Stamp to commemorate the 100 years of Indian Science Congress.
Designed by : Dr. Tridha Gajjar of National Institute of Design, Ahmedabad
Type : Stamp, Mint Condition
Watermark : No
Colour : Multicoloured
Denomination : 500 Paise
Stamps Printed : 0.41 Million (0.1 million for the proponent)
Printing Process : Wet Offset
Printers : Security Printing Press, Hyderabad
About :

The

Indian Science Congress Association

(

ISCA

) owes its origin to the foresight and initiative of two British Chemists, namely,

Professor

J. L. Simonsen and

Professor

P. S. MacMohan. The Association was formed with the objective to advance and promote the cause of science in India, to hold an annual congress at a suitable place in India, to publish such proceedings, journals, transactions and other publications as may be considered desirable.
The first meeting of the Congress was held from 15-17 January, 1914 at the premises of the Asiatic Society, Calcutta, with Justice Sir Ashutosh Mukherjee, the then Vice-Chancellor of the Calcutta University, as President. 105 scientists from different parts of India and abroad attended the Congress. Pandit Jawaharlal Nehru, the first Prime Minister of India attended the 34th Annual Session of the of the Indian Science Congress and the first session after Independence, held at Delhi from 3-8 January, 1947, as a General President. His personal interest in the Science Congress immensely enriched the activities of the Congress by development of a scientific atmosphere in the country, particularly among young generation. In fact from 1947 itself, a programme for inviting representatives from foreign societies and academics was included in the Science Congress.
From a modest beginning with 105 members and 35 papers communicated for reading at the first session, ISCA has grown into more than ten thousand member strong fraternity and number of papers has risen to nearly one thousand. ISCA has been actively represented in various foreign scientific academies/associations, namely British Association for the Advancement of Science, American Association for the Advancement of Science, French Academy of Sciences, Bangladesh Academy of Sciences, Sri Lanka Association for the Advancement of Science, etc. with a view to have a first hand knowledge on topics of mutual interest.
With the passing years changes have been introduced in the Science Congress. In 1976, Dr. M. S. Swaminathan, the then General President of ISCA, introduced the Focal Theme of national relevance which is now discussed in every section, committee and forum during the annual session and several plenary sessions are organised around various facets of the Focal Theme in which scientists and technologists as well as policy makers and administrators interact with one another.
The centenary session of the Indian Science Congress is scheduled to be held from 3-7 January, 2013 at Kolkata. The theme for the session was "Science for shaping the future of India".